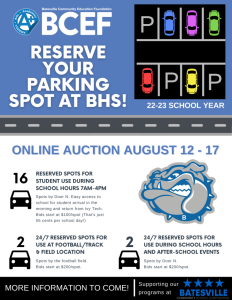 Batesville, IN — An online auction of 20 reserved parking spaces at Batesville High School will be hosted by the Batesville Community Education Foundation in early August, announced foundation executive director Anne Wilson. This fundraising event will feature 16 reserved student spaces near the back entrance of the school for use only during the school day. Four additional spaces will be available 24 hours a day as a service to those fans or families who would like a dedicated place to park no matter the time of day. All spaces will be reserved until the end of the 2022-23 school year.
The online auction will open at 6 AM on Friday, August 12, and will close at 8 PM on Wednesday, August 17. The event can be found here.
Student spaces are only to be used from 7 AM to 4 PM on school days and will be available for the public to use after those times, such as during a school event.