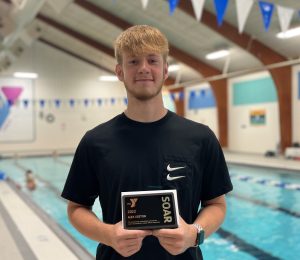 BATESVILLE, IN — Two Southeastern Indiana YMCA staff members were recognized in July with the YMCA S.O.A.R.(Service and Outstanding Achievement Recognition) Award.
"These employees have gone above and beyond routine job expectations by providing extraordinary services, activities, or other initiatives that strengthen our staff, members, and the community," said Southeastern Indiana YMCA Aquatics Director, Kristen Fletcher, who nominated the following staff members for the award:
Alex Keeten – A Junior at Greensburg High School, Keeten started as a swim instructor last December. "It was immediately clear that he took pride in doing a good job. He has been fantastic with his students in swimming. As soon as he was old enough he wanted to add lifeguarding to his list of responsibilities. Since then he has never said 'no' when called upon. He has been a huge asset to our pool and keeping our swimmers and the students who come in for lessons safe," said Fletcher.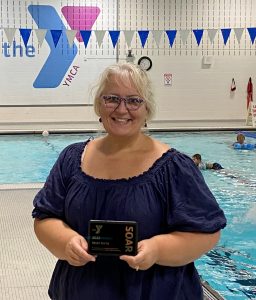 Tracy Smith – "Smith was a member at our Y, and I got to know her when she came in to swim laps. I talked to her about becoming an aquatics group exercise instructor because she has such a bubbly personality and is good at getting everyone excited about exercise. Our members also really enjoy her classes because she makes them challenging. She has taken it upon herself to advance her knowledge and acquire certifications in group exercises for aquatics. She has really wanted to do well in her job and give our members what they are looking for in fitness," added Fletcher.
"We congratulate and honor these staff members for illustrating outstanding efforts to contribute to the success of the Southeastern Indiana YMCA community through their service and achievements," shares Angie Harmeyer, Southeastern Indiana YMCA Chief Executive Officer.
(Southeastern Indiana YMCA press release)