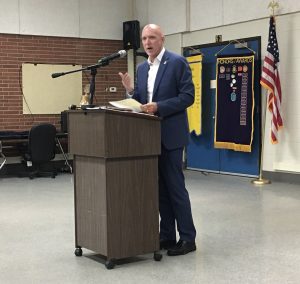 GREENSBURG, IN — Longtime Decatur County Chief Deputy Prosecutor Doug Brown was named Law Enforcement Officer of the Year on Thursday by the Greensburg Optimist Club.
"I love the work that I do. I love working in Decatur County," Brown said. "We work with a great group of law enforcement officers – both men and women. Our front-line people…I respect them so much, and to represent them with this honor…I'm humbled."
Brown has worked in the Decatur County Prosecutor's Office since 2011.
The award has significance, not only for recipients but also for the Optimist Club.
"Our officers and staff, courthouse, prosecutor's office, everybody works so hard that they deserve good recognition. This is a chance for us to reach out and tap someone to say, 'Thank you for all of the hard work that you've done," said Dennis Fogle with the Optimist Club. "And I think that's very important for everyone to see because I don't think people know everything that goes on behind the scenes."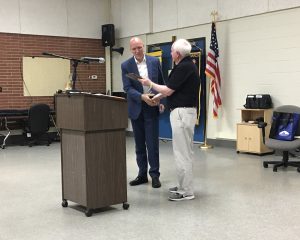 The Greensburg Optimist Club has presented the Law Enforcement Official of the Year Award since 1985.