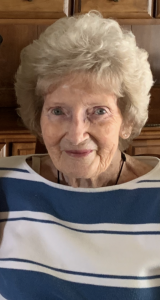 Mary Suzanne (Susie) McLaughlin Richardson Green was a caring mother, grandmother, wife, sister, and friend. She left this world on July 18, 2022 at age 93. Susie was born to Robert E. McLaughlin and Virgie Lee McLaughlin in Madison, Indiana on August 5, 1928. She moved to Greensburg with her family as a child and graduated from Greensburg High School in 1946.
She was a loving and devoted homemaker. Leading by example, she instilled resiliency and optimism through four generations of her family. Her indomitable spirit was present in everything she did. In the community, she was a member of Delta Theta Tau Sorority and the P.E.O. Sisterhood. She was also a member of the First Baptist Church. In recent years, she attended First Presbyterian Church where she enjoyed the Friendship & Talent Women's Group.
She found two great loves in her life. Susie was first married to Howard E. Richardson, with whom she built a loving family. After his passing, she married Elbert L. Green, with whom she raised two step-children and enjoyed traveling and living between Port St. Lucie, Florida and Greensburg. Her time on earth was spent dancing, playing cards with friends, enjoying music, reading books, traveling the world, and appreciating the beauty of flowers, rainbows, and songbirds. Known for her steady demeanor and steely nature, she proved in her elder years that you're never too old to be silly or a little mischievous.
Susie will be missed immeasurably by her family who survive her: daughter, Linda S. White (Ted); step-daughter, Deena R. Hamer; step-son, Richard B. Green; son, Timothy Richardson; granddaughters: Suzanne Jones, Sarah Green (Shawn); Karrie Zuccarello (Joe), Melissa Hamer (Nathan Orr) and great-grandchildren: Ava Jones, Noah Raucher, Elwanda Orr, Emerald Orr, Ethan Zuccarello, and her namesake, Mary Suzanne Zuccarello. She was preceded in death by her first husband, Howard E. Richardson; their two infant daughters; son, Kenneth Richardson; her second husband, Elbert L. Green; her parents; brothers: James McLaughlin and Jack McLaughlin; and sisters: Evelyn Graves and Janet Power.
Her family wishes to thank the staff of Aspen Place and South-Central Indiana Hospice for their exceptional care in her final days.
Visitation for family and friends will be held at the Gilliland-Howe Funeral Home on Tuesday, August 2, 2022 from 10:00 a.m. until the time of the Memorial Service at 11:00 a.m. Margaret Lowe will be officiating. In lieu of customary remembrances, contributions in her memory may be made to the Decatur County YMCA, Our Hospice of South Central Indiana, or ALS Association of Indiana. Online condolences can be made to the family at www.gilliland-howe.com.