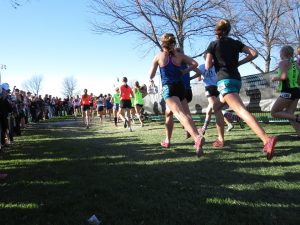 The latest in the Southeastern Indiana Racing Circuit events, benefitting local high school Cross Country programs, took place with Saturday's running of the 13th annual Lakeside 5 K in Brookville.
18-year-old Kyle Stanley of Falmouth, Kentucky finished with the top overall time of 17:30.
18-year-old Lanie Nicholson of Versailles continued her dominance in the women's division. She was 10th overall with a time of 19:53.
A complete list of overall run results can be found here.
In the 5K walk, the top overall finisher was, once again, 67-year-old Gary Exaver of Sardinia Ohio with a time of 37:57.
The top women's finisher, also once again, was 49-year-old Ginger Peters of Osgood, who came in second at 41:02.
A complete list of overall walk results can be found here.
Detailed results of all six races can be traced on the SIRC page of Stuart Road Racing.
The next event in the circuit will be Saturday's Indian Trails 5K in Milan. The registration form is available here.
The final SIRC race of the year will be in Batesville on August 6.