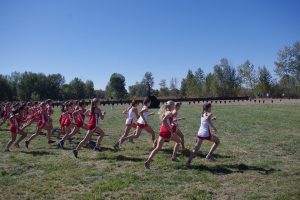 One of SE Indiana's oldest road races took place Sunday with the 42nd running of the St. Martins 5K Country Run in Yorkville.
The top overall finisher was 23-year-old Curtis Eckstein of Batesville with a time of 14:58.
The top female finisher was 17-year-old Annabelle McDonald of Lawrenceburg, who came in 14th overall with a time of 20:17.
A complete list of overall 5K run results can be found here.
The top finishers for each age group can be found here.
50-year-old Sid Stephens from Georgia took the Most Improved Runner title. He finished this year at 26:39, compared to 43:10. That's an improvement of 16:32.
The most improved female runner was 10-year-old Katelynn Swales of Guilford. She finished at 29:29, compared to 37:28 last year. That's 7:59 better in 2022.
Complete Most Improved Runner results can be found here.