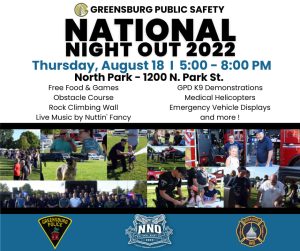 GREENSBURG, IN — Greensburg Public Safety will hold National Night Out activities on Thursday, August 18 from 5-8 pm at North Park.
The event will feature free food and games, live music by "Nuttin' Fancy," an obstacle course, a rock climbing wall, Greensburg Police K9 demonstrations, medical helicopters, emergency vehicle displays, and more.
National Night Out is an annual event designed to heighten crime prevention awareness, build support and participation in local anti-crime efforts and send a message that the community is organized and fighting back.