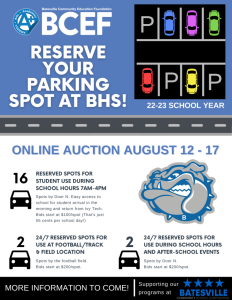 BATESVILLE, IN — The Batesville Community Education Foundation (BCEF) will try a new fundraising method during the 2022-23 school year.
BCEF will auction off reserved parking at Batesville High School for students and Bulldog sports fans.
The online auction will take place between 6 am on August 12 and 8 pm on August 17.
Sixteen parking spaces will be reserved for student use during school hours between 7 am and 4 pm; 2 spots will be reserved 24/7 at the football/track and field stadium, and 2 more parking spaces will be reserved 24/7 for use during school hours and after school events.
The spots may be used from August 22 through May 31.
Additional details can be found on batesvilleducationfoundation.org.