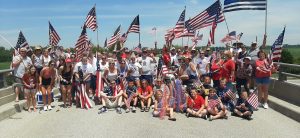 DECATUR COUNTY, IN — Robin Meyer and his Independence Day flag-wavers set a new record Monday.
One hundred and nine people showed up, which shattered the previous record of 50 set on Memorial Day, to wave the Stars and Stripes over I-74 at the Moscow Road overpass.
The group gathers every patriotic holiday to wave America flags on local interstate overpasses.
A second group headed by Sandy Volk gathered on the Enochsburg Road overpass Monday morning.