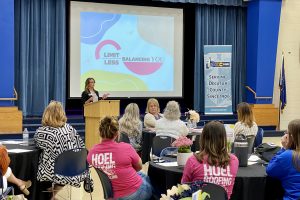 GREENSBURG, IN — The Greensburg/Decatur County Chamber of Commerce held its 19th Annual Women In Business Conference late last week at Greensburg Elementary School.
Chamber Executive Director Dawn Lowe says this year's conference was held in person for the first time since the start of the pandemic.
"It allows them to network, it allows some of our businesses to market themselves through vendor tables and sponsorship opportunities," Lowe said. "It allows women to feel empowered and to feel enlightened."
She adds Women In Business has been held every year since its inception, with the last two conferences taking place virtually.
The closing keynote speaker was author and "Million Dollar Mentor" Debrena Jackson Gandy.
"They have such a great theme this year, which is 'Limit Less and Balancing You,'" she said. "I love that! That's what my books are about and that's what my company is about – empowering women."
This year's conference was sold out.