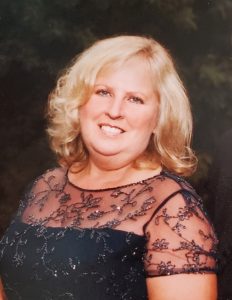 Debra L. Ashcraft (née Fox), 67, of Aurora, entered peacefully into eternal rest at her home on Tuesday, June 28, 2022, after a brave and courageous second battle with leukemia. Debra, who was affectionately known as Debbie or Deb by friends and family, was born on Friday, July 23, 1954 to Paul and Mabel Fox (née Hall), in Hamilton, Ohio. She was raised on the family farm in Guilford and spent much of her youth adventuring on the sprawling land that she so dearly loved; she loved sharing memories of her years on Mt. Pleasant and reminiscing about her time there. Debbie graduated from North Dearborn High School in 1972 and was a hard-working and loyal employee of Kroger for over 35 years before her retirement. She was known for her punctuality and her commitment to serve her customers.
Debbie enjoyed many activities throughout her life and dearly loved spending time with her family and friends. In her younger years, she enjoyed spending her days at the Greendale Pool and Brookville Lake with her brothers, sisters, and children. She loved planting a beautiful garden at her home with colorful flowers and fragrant herbs. Deb was an avid reader and loved to read about a wide variety of topics. Her love of the beach and the ocean were evident when she visited Florida. She would walk on the beach and find the most beautiful seashells for her collection. Her family trips to Michigan were filled with walks on the beach, picking fresh blueberries, and shopping. Grilling burgers in the summer was a constant in the Ashcraft home. Debbie, Tim, and their children loved sitting on the back porch enjoying dinner after a day of fishing at the neighbor's pond. She loved to reminisce about her favorite stories, one being her favorite New Year's Eve with her husband, Tim, and him riding the mechanical bull at Bobby Mackey's.
Debbie's true calling in life and what she loved the most, was being a mother and grandmother. Her children and granddaughters brought her so much happiness and joy, and she never missed an opportunity to express how proud she was of them. Mammy Debbie was the most devoted and loving grandmother in existence, and her undying love for them was present even in her final days on this earth. She was so very proud of each one of them and she had a unique way of making them feel so very special and loved. Her life centered around their happiness, and she will always be a very special part of who they are and who they become in the future. Mammy often referred to her girls as "sweetheart," "sweetie pie," and "my love" and she could always be found volunteering in their classroom at school parties, field day, and surprising them for lunch at their school – just to put a smile on their face. She loved to bake cupcakes and brownies, read books, and build the best blanket forts. Debbie was truly the epitome of what a mother and grandmother should be, and her legacy will forever live on through them.
Debbie is survived by her husband of 45 years, Tim Ashcraft; her son Jeremy Savage; daughter and son-in-law Mandy (née Ashcraft) and Victor Schneider; three beautiful granddaughters, Tori, Annabelle, and Stella Schneider; brothers Harry (Linda) Fox, Paul R. (Toni S.) Fox, Laurel (Julie) Fox, Tim (Tabitha H.) Fox, Tracy (Lisa) Fox, and Christopher Fox; sisters Pam (John) Armbruster, Heather (Jeff) Dierckman, and Abby (Matt) Scheiner; sister-in-laws Barbara (the late Billy) Cook, Joan (Jim) Hanna, and Cheryl (Mark) Neal; her grandpup Sadie; many nieces, nephews, cousins, and friends.
Debbie was welcomed to heaven by her parents Paul and Mabel Fox, her in-laws Mildred and Elmer Ashcraft, and her brother-in-law, Billy Cook.
Debbie's wish was to be remembered not with sorrow, but with the happy memories that live within the hearts of all that were fortunate enough to know and love her. A private service will be held at the convenience of the family. In lieu of flowers, memorial donations in Debbie's name may be directed to the following: St. Jude Children's Research Hospital, 501 St. Jude Place, Memphis, TN  38105 or The Live Like Maya Foundation, 4801 Appaloosa Trail, Mason, OH 45040, LiveLikeMaya.org.
Laws-Carr-Moore Funeral Home has been entrusted with arrangements, P.O. Box 243, Milan, IN 47031 (812) 654-2141. Please visit our website at www.lawscarrmoore.com to share your condolences and memories of Debbie.