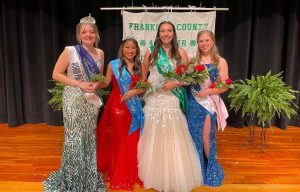 BROOKVILLE, IN — Shelby Rosenberger is the 2022 Franklin County 4-H Fair Queen.
Chloe Cowen was chosen as 1st runner-up; Autumn Bruns was named 2nd runner-up, and Miss Congeniality is Devyn Kerr.
Rosenberger will reign over the fair, which takes place July 11-16 at the Franklin County 4-H Fairgrounds in Brookville.