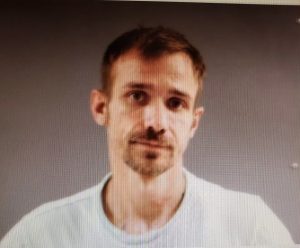 OHIO COUNTY, IN — A Switzerland County man was charged Monday with Burglary Resulting in Bodily Injury
Marvin Moyers Jr. of Patriot is accused of taking several firearms, a table saw, and other personal belongings from a home on Mexico Ridge Road in Ohio County during a burglary on Sunday.
The homeowner was allegedly tied up and repeatedly beaten during the burglary, and suffered various injuries including black eyes, contusions, and at least one laceration that required stitches.
The victim freed himself after the attack and walked to a neighbor's residence for help.
Investigators found a large amount of blood at the scene, footprints in the living room and basement, and a black cable fastened to a chair.
Home security footage from a nearby home also showed a red SUV near the home.
Indiana State Police detectives learned that same day that a woman called Switzerland County 911 to report a domestic battery. It turned out the woman was a girlfriend of Moyers who had gone to his residence to retrieve some of her belongings.
Switzerland County Sheriff's deputies went to Moyers' residence and spotted an older, red SUV parked in the driveway. Detectives believed the SUV matched the vehicle in the surveillance video taken earlier at the burglary victim's home. Moyers was arrested for Domestic Battery and taken to the Switzerland County Jail.
Authorities received a search warrant for Moyers' residence and vehicles, where items including a shotgun, cigars, and electronic devices were allegedly recovered. Those items were believed to have been stolen from the Mexico Ridge home.
Moyers is awaiting an initial hearing in Ohio Circuit Court before Judge James D. Humphrey.