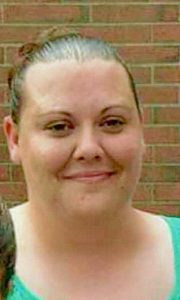 Ashley Renee Lee, 38, of Westport, IN passed away Saturday, June 25, 2022, at her family's home. Ashley was born December 6, 1983, in Greensburg, IN as the daughter of Gerald G. Lee and Beverly Ann Filler Stout.
Ashley grew up in Greensburg and resided in Westport, IN where she was employed at Dollar General for many years, her coworkers became family. She met her fiancé and love of her life Michael W. Dummich in September of 1999. Ashley and Michael are the parents of two beautiful daughters: Cheyanne and Mackenzie Dummich.
Ashley enjoyed spending time with family and sharing stories of her childhood and teenage years. She kept family first and held memories close to her heart.
Ashley is survived by her father, Gerald (Miranda) Lee; fiancé, Michael Dummich; daughters: Cheyanne and Mackenzie Dummich; one brother, Seth Dickson; one sister, Cailey Lee; one sister-in-law, Veronica Foster; numerous aunts, uncles, nieces, nephews; and lifelong friend, Alicia Ramer.
She was preceded in death by her mother, Beverly Filler Stout; brother, Joshua Foster; and grandparents.
A visitation for family and friends will be held on Friday, July 1, 2022, from 10:00 am to 12:00 pm at Porter-Oliger-Pearson Funeral Home in Greensburg. A funeral service will immediately follow the visitation at noon with Rev. Doug Preston officiating.
In lieu of flowers, memorial contributions can be made to the funeral home for the children of Ashley Lee.