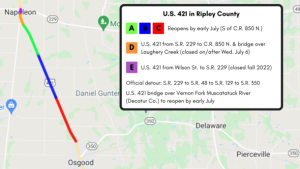 DECATUR/RIPLEY COUNTIES, IN — Indiana Department of Transportation contractor Dave O'Mara Contractor Inc. plans to close U.S. 421 at the bridge over Laughery Creek on or after Wednesday, July 6, for a replacement project in Napoleon.
The bridge is located just south of State Road 229 and will remain closed through mid-to-late October.
Pavement and curb ramp replacement will also occur between State Road 229 and County Road 850 North (Michigan Road). Traffic will be routed along the official detour which follows state roads 229, 48, 129, and 350 while work is in progress.
The contractor closed U.S. 421 in early April to begin work on two construction contracts, totaling nearly $7 million in Decatur and Ripley counties. Work includes pavement replacement between Napoleon and Osgood and bridge replacements over Vernon Fork Muscatatuck River and Laughery Creek. Paving is expected to be complete south of Napoleon by early July, at which time the road will reopen to traffic south of Michigan Road.
The U.S. 421 bridge over Vernon Fork Muscatatuck River is also scheduled to reopen by early July following a replacement project. The bridge is located just over five miles north of State Road 229 between County Road 480 East and County Road 550 East in Decatur County.
Both contracts were awarded to Dave O'Mara last year for a total of $6,990,868.79.
INDOT reminds drivers to use extra caution, avoid distractions, and consider worker safety when driving through active construction zones.
All work is weather-dependent and schedules are subject to change.
(Indiana Department of Transportation press release)