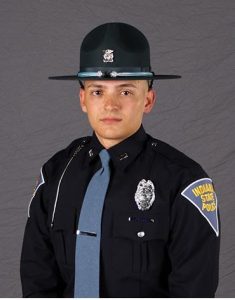 PENDLETON, IN — A Lawrenceburg native who graduated from the 82nd Indiana State Police Recruit Academy on June 16 has been assigned to the ISP-Pendleton Post.
23-year-old Avery Weisbrodt is a 2016 graduate of Lawrenceburg High School.
After graduating from LHS, Weisbrodt joined the U.S. Army and spent five years on active duty as a Military Policeman.
He currently serves as an Indiana National Guardsmen.
Weisbrodt and the other new troopers completed 23 weeks of training at the Recruit Academy.
The recruits completed over 1,100 hours of academic and hands-on training in criminal and traffic law, crash investigation, emergency vehicle operations, defensive tactics, firearms, de-escalation, impaired driving detection, scenario-based training, and other classes necessary for modern policing.
Weisbrodt and the other new troopers will go through three months of field training working next to several experienced field training officers.
After completing this phase, the troopers will be issued their police cars and begin solo patrol on Indiana roads.
Weisbrodt will patrol Henry, Wayne, Rush, Fayette, and Union counties.
He plans to relocate to the Greenfield area with his wife of two years Melissa, and his dog Stella.