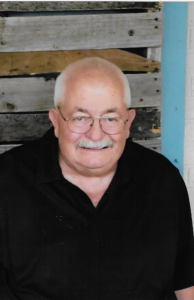 James "Snorky" Edward Harrell, 76, of Moores Hill, Indiana, passed away Tuesday, June 28, 2022, in Lawrenceburg, Indiana.
Born April 6, 1946, son of the late James Howard Harrell and Eunice (Graham) Harrell.
James was employed at Schenley and Seagrams Distillers, retiring in September 2007. He volunteered on the Aurora Volunteer Fire Department many years ago, and was currently a member of the Moores Hill Legion.
James loved to fish, hunt, camp, and garden; enjoyed cooking, and was a great "practical joker". He liked pulling pranks on many family, friends, and coworkers.
James is preceded in death by his parents James and Eunice; wife Glenda (Coldwell) Harrell; son Charles Robert Harrell; brother Larry Harrell; sister Willa Mae (Becky) Heller.
James is survied by his daughter Amy Powell (Richard "Chip" Powell); sisters Terry (Bill) Doerr, Debbie (Stan) Jackson, Nancy (Chuck) Richardson; grandchildren Zachary Harrell, Abby Harrell, Katie Johnson, Spencer Harrell, and Corey Johnson; great grandchildren Owen Schneider, Wyatt Schneider; sister-in-law Sandy (Melvin) Higham.
Friends will be received Friday, July 1st, 2022, 12:00pm – 2:00pm at First Baptist Church of Aurora, 6060 Blair Road, Aurora, Indiana.
Services will be held at the church, at 2:00pm with Pastor Bill Secrest officiating.
Interment will follow at Mt. Sinai Cemetery, Aurora, Indiana
Contributions may be made to the The Moores Hill Life Squad or First Baptist Church of Aurora. If unable to attend services, please call the funeral home office at (812) 926-1450 and we will notify the family of your donation with a card.
Visit: www.rullmans.com