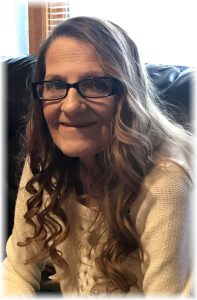 Gillian Anne Martin, 77, of Sunman, passed away June 26, 2022 at Aspen Place Nursing Home. She was born in Norwich, Norfolk, England on December 7, 1944.
Gillian spent many years as a dog breeder for Labradors and Golden Retrievers. Anyone who knew her, knew how important her dogs were to her. She could often be found babysitting as well. Gillian was known to be a talented poet who liked to crochet and knit. She was an avid bowler in her younger years, too.
When her children were younger, she enjoyed their friends always being over and ensuring everyone around her felt included. Even after many years in the United States, Gillian loved to keep herself updated on the Royal Family back home. She was always involved in the Catholic faith and was a very spiritual person. No matter what, Gillian always kept her family number one in her life and loved them more than anything. She enjoyed making her grandchildren laugh with all the silly songs she would sing to them.
Gillian will be deeply missed by her children, Donna Martin (Eric), Gerald Martin (Susan), and Michelle Gabbard (Justin); grandchildren, Megan, Johnathan, Austin, Carson, Hailey, Brianna, Seth, Sierra, Connor, and Jenni; step grandchildren, Kerry and Steven; great grandchild, Roman; brother, Bob Hislop (Linda); and many nieces and nephews.
She was preceded in death by her daughters, Odette Merkel and Melanie Martin; and siblings, Maureen South, Janice Rehal, Rose Arnold, David Hislop, and Murial Lewis.
A Celebration of Life will take place on Friday, July 1, 2022 from 5:00 PM to 7:00 PM with a prayer and blessing performed by Father Shawn Whittington at 7:00 PM all at Meyers Funeral Home in Batesville.
Please feel free to leave a memory or a message of comfort for Gillian's family in the online guestbook at www.meyersfuneralhomes.com.