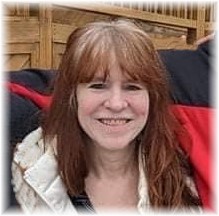 Susan Kelli Van Sweringen (Yarber) left this earthly plane on the morning of 6/19/22. She lived with her brother Derek Yarber in Batesville, IN. Kelli (as she was commonly known) was born in Winchester, KY to Rena Faye Huneke and George Yarber on 12/29/1965. In later years she became very close to her step-father Estal Eugene "Bud" Huneke.
Kelli left behind her 3 siblings Derek Yarber, Andrea Yarber and Scottie Lizer. She also left 3 beautiful children Derek Keagan Huneke (33), Kealan Makenzie McConville (29), and Barbara Kate Van Sweringen (15), as well as 10 amazing grandkids and they are as follows; Adriana Faye Andonian, Priscilla Rose Andonian, Jordan Amar Andonian, Zamora Auriel Andonian, Legend Andonian, Aiden McConville, Lincoln McConville, Maverick McConville, Leighton Kate McConville, and Elena Faye Yarber. Kelli loved her grandkids as much as she loved her last husband and her kids.
She served her country with honor and pride, through the United States Air Force. Kelli was very active in her school, and absolutely enjoyed singing in musicals, (Godspell was one she loved) and the choir. As a junior she was named to the Indiana State Choir, while she was living in Batesville. In October of 1999, Kelli married James G. Van Sweringen in Shaker Heights, OH, and together they had Barbara Kate Van Sweringen on September of 2006 in Rainbow City, AL. Music was one of Kelli's passions and a major part of her life. She also absolutely loved working with people, and helping out in any way she could. Kelli worked at the Sherman as well as the Sweets Shop in Batesville before she passed.
A Celebration of life will be Wednesday, June 29, 2022 between 4-6pm with memorial service at 6pm all at Meyers Funeral Home in Batesville, IN. Followed by military honors conducted by the Batesville VFW Post #3183 and Prell-Bland American Legion Post #271, as this was another one of her prides in her life.
Donations rather than flowers are welcome. All proceeds will go to a memorial for Kelli in Liberty Park where she loved to work and talk to the many people that loved her. Memorials can be given to the fund by bringing to services or mailing to Meyers Funeral Home, P.O. Box 202, Batesville, IN 47006.
Please feel free to leave a memory or a message of comfort for Kelli's family in the online guestbook at www.meyersfuneralhomes.com.