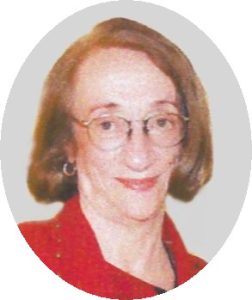 Ethel Rose Haskamp, age 91 of Batesville, Indiana, died Friday, June 24, 2022.  Born May 3, 1931 in Oldenburg, Indiana, she is the daughter of Frank and Ethel Linda (Nee:  Lamping) Meer.
She attended Holy Family School and the Immaculate Conception Academy in Oldenburg.  As a teen she worked at Kellerman's Store in Oldenburg and then was employed by the Batesville Casket Company in the sewing room for 7 years, before leaving to raise her family.  Ethel later returned to the workforce as a housekeeper for numerous families and local businesses.  As her physical capabilities became limited, she did sewing and alterations in her home along with laundry and ironing.
Ethel loved doing Sudoku puzzles and she was hooked on them so much that she would order dozens of books at a time.  She enjoyed visiting flea markets and taking short bus trips and never passed up an opportunity to dine out.  Ethel had multiple bird feeders at her home and loved watching all the different types of birds from her window, where she could identify what kinds they were.
She is survived by her daughters Susan (Joe) Shook of Batesville and Pam Haskamp of Oldenburg; granddaughters Robin (Jim) Mellen of Phoenix, Arizona and Tracy Volz of Rushville, Indiana; great grandsons Brandt and Rory Mellen.  In addition to her parents, she was preceded in death by her brother Gilbert Meer and nephew Troy Meer.
An abundance of gratitude is given to the Margaret Mary Hospice Team, as home care would not have been possible without these angels on earth.
Visitation will be held Wednesday, June 29th, from 10 – 11 a.m. at Holy Family Catholic Church in Oldenburg.  Funeral services will follow at 11 a.m. at the church, with Rev. Carl Langenderfer O.F.M. officiating.  The burial will be held at Holy Family Cemetery.  In lieu of flowers, sympathy may be expressed by memorial contributions to the Margaret Mary Health Foundation Hospice, Ripley County Humane Society or the Franklin County Humane Society.  Online condolences may be made at www.weigelfh.com.