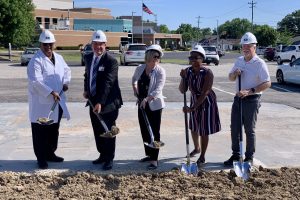 GREENSBURG, IN — Decatur County Memorial Hospital (DCMH) held a groundbreaking ceremony Thursday afternoon for its new Rehab Facility and Medical Office Building.
The 28,000-square-foot facility will offer physical, occupational, and speech therapy for both adults and children.
It will also house clinic space with room to grow.
"We're thrilled to have this development of a great building and facility for the community,' said hospital President and CEO Rex McKinney. "It's long overdue and certainly well-deserved for a community that needs our rehab services and will need for many, many years to come."
DCMH Director of Rehab Services Lisa Oldham says the new building will ease scheduling issues that have popped up in recent years, plus save local patients a drive to Cincinnati or Indianapolis.
"We have had that issue in the past as we've brought on more therapists. That has helped, but it's also condensed our space some more, so it gave us even more need for the space with all of the therapists that we've hired," Oldham said.
She added the new facility is designed to meet patients' needs well into the future.
"It's a very open space, as you would expect for a rehab facility. Lots of natural light, which we're super excited about because right now we're in the basement so we don't have windows right now, so we're really excited to have the natural light and it's going to be kind of an industrial feel, so I think it will be a timeless design," Oldham said.
The facility is being built on the north end of the hospital's Lincoln Street campus.