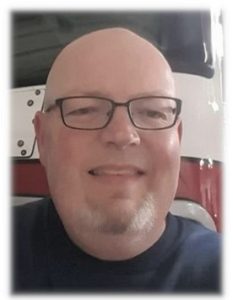 Michael "Mike" Dean Allen, 49, of Greendale passed away Wednesday, June 22, 2022 at The Christ Hospital in Cincinnati, Ohio. Mike was born on Thursday, October 12, 1972 in Lawrenceburg, Indiana; son of Stanley and Shirley (Littell) Allen. Mike was a member of the Milan Baptist Church. He worked for DHL in Hebron, Kentucky. Mike was a volunteer for the Milan Fire Department, Moores Hill Fire Department, an EMT for Milan, and a member of the Eagles in Aurora. He enjoyed spending time with family and friends, watching sports, especially "Ohio State" and "Bengals" football, going to Bluegrass festivals, and time spent with his best Yorkie friend, Grover.
Mike will be missed by his brother Larry (Janice) Allen of Milan; sisters Gloria (Ronnie) Burns of Sunman and Brenda DeRenski of Batesville; and his Yorkie, Grover.
Mike was preceded in death by his parents, Stanley and Shirley Allen.
Family and friends may gather in remembering Mike from 10:00am – 12:00pm on Saturday, July 2, 2022 at the Laws-Carr-Moore Funeral Home in Milan. A Celebration of Life Service will immediately follow at 12:00pm with Pastor Harris Long officiating, burial will follow at Craven Cemetery. Memorials may be given in honor of Mike to the Milan Fire Department or the Moores Hill Fire Department.
Laws-Carr-Moore Funeral Home has been entrusted with arrangements, 707 S. Main Street, P.O. Box 243, Milan, IN 47031, (812) 654-2141. Please visit our website at www.lawscarrmoore.com to share your condolences and memories of Mike.