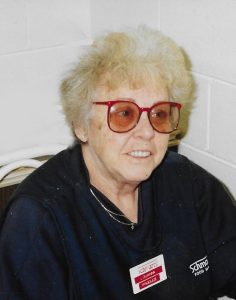 Louanna R. Fleming, 91, of Lawrenceburg, Indiana, passed away Wednesday, June 22, 2022.
She was born July 9, 1930, in Aurora, Indiana, daughter of the late Alvin McDaniel and Pina (Walker) McDaniel.
She graduated in 1948 from Aurora High School. Louanna worked in the produce department at Schmarr's Grocery Store and as a cook for Sunnyside Inn.
She was a member of First Baptist Church Aurora.
Louanna enjoyed playing Bingo and she loved to watch TV game shows, especially "Let's Make a Deal." Her favorite thing to do was to sit and visit with her family and friends.
Louanna is survived by brother, James L. McDaniel Sr. of Aurora, IN; nieces and nephews, Jim (Pam) Mcdaniel Jr., Alvin (Patty) McDaniel, Diane House, Regina McDaniel (George Haney), Kenneth McDaniel, Lucian Neal, Jon McDaniel and Trey McDaniel.
She was preceded in death by her parents Alvin and Pina; brother, William C. McDaniel; sisters, Linda M. Neal-Ramsey, Barbara Jean McDaniel.
Friends will be received Tuesday, June 28, 2022, 11:00 am – 1:00 pm at the Rullman Hunger Funeral Home, 219 Mechanic Street, Aurora, Indiana.
Services will be held at the Funeral Home, at 1:00 pm.
Interment will follow in the River View Cemetery, Aurora, Indiana.
Contributions may be made to the American Cancer Society or First Baptist Church Aurora. If unable to attend services, please call the funeral home office at (812) 926-1450 and we will notify the family of your donation with a card.
Visit: www.rullmans.com