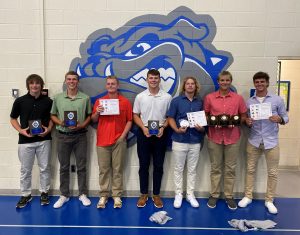 Hardware was handed out at the recent Batesville High School Baseball end-of-season awards banquet.
The Bulldog Award winner was Zach Wade.
Jack Grunkemeyer won the Pitcher and Hitter awards and team MVP honors.
All-EIAC team members were Wade, Grunkemeyer, Charlie Schebler, Travis Lecher and Max Baumer.
Sam Weigel took the JV Bulldog Award.
The C Bulldog award went to Alex Krekeler.
(We thank Tyler Burcham with Batesville High School Baseball for the information)