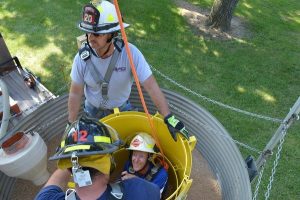 WESTPORT, IN — The Westport Community Volunteer Firefighters will be trained in grain bin rescues and will receive a key piece of life-saving equipment through a program from Nationwide Insurance.
A total of 58 fire departments across the country will receive the awards this year.
The Grain Bin Safety Program has provided 265 grain bin rescue tubes to first responders in 21 states since the initiative started in 2014.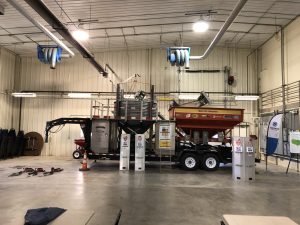 The Westport and Letts volunteer departments were the first on the scene in March when a farmer became trapped in a grain silo and called Jennings County departments for assistance with a grain bin rescue tube before the man could be freed.
It was the second successful grain bin rescue in the area within a week's time that month. A Decatur County farmer was rescued from a bin on East County Road 400 South one week before.
Nationwide has partnered with the National Education Center for Agricultural Safety to provide fire departments with grain bin rescue tubes and hands-on training.
The training will include instruction on state-of-the-art grain entrapment simulators and rescue tubes. The simulators are loaded onto 20-foot trailers and are each able to hold about 100 bushels of grain (pictured).
Donations from the Indiana Corn Marketing Council are bringing the resources to Westport.
"We are proud to provide first responders the education and resources to lead the fight against local grain bin entrapments," said Brad Liggett, president of Agribusiness at Nationwide. "It's been our mission to bring an end to this industry issue by raising awareness of the dangers and supplying needed equipment to the front line rescuers tasked with responding when accidents occur."
More than 1,800 fire departments in 45 states were nominated to receive the equipment and training this year.