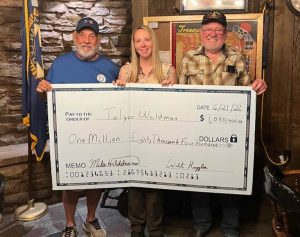 MILAN, IN — After nearly a year, a winner was picked Monday night in the Milan American Legion Treasure Hunt.
Taylor Waldman, who works at the Ripley County Jail, drew the lucky #19 that earned her the winning jackpot.
The 24-year-old Waldman is the lucky winner of $1,080,400 – before taxes.
"It was a lot of work and a lot of fun," said Post Commander Walt Ruggles. "We now have funds that we will be able to distribute to our community and our veterans that we didn't have before. That's really why we did the Treasure Hunt."
Ruggles says, for now, they're going to take a break before they start another Treasure Hunt.
"It won't be too long from now, but we may make some changes to how the game is played, what the rules are, and some of the prizes that we give out may change also," Ruggles said.
Ruggles would like to thank everyone who showed up and played, local businesses that had players parking on their properties in recent weeks, Milan Community Schools, Milan VFW, and Hoosier Hills Regional Water for the use of their parking lots, local law enforcement, shuttle bus drivers, and everyone associated with the Legion for their work on the Treasure Hunt over the past year.
Photos taken by drone of the huge crowd that showed up Monday night can be seen on the Post's Facebook page.