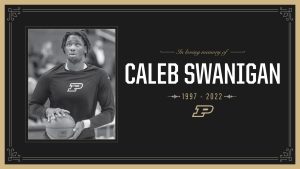 FORT WAYNE, IN — Former Purdue University basketball star Caleb "Biggie" Swanigan has died at the age of 25.
The Allen County Coroner's Office says Swanigan died of natural causes.
Swanigan was Indiana's Mr. Basketball in 2015 and won a state championship at Fort Wayne Homestead that year.
He played two seasons at Purdue before he was drafted by the NBA's Portland Trailblazers in 2017.
In addition to two stints with the Trailblazers, Swanigan also played for the Sacramento Kings.
Swanigan last played in the league in 2020.