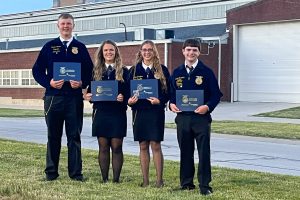 BATESVILLE, IN — The Batesville FFA Chapter had several successes at the 93rd State FFA Convention.
Five members were awarded for their accomplishments in their Supervised Agriculture Experiences, and there were two state winners.
Paul Meer ranked 4th in Forage Production, and both Blake Belter (Diversified Horticulture) and Anna Bergmann (Specialty Animal Production) earned 2nd place honors.
Jason Emsweller (Turf Grass Management) and Josh Honnert (Diversified Ag Production) captured the state wins in their respective areas.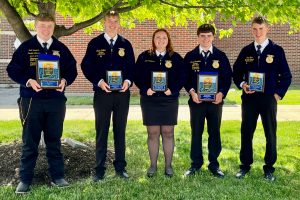 Both Emsweller and Honnert will represent Indiana at the National FFA Proficiency Contest.
Four members of the chapter earned the highest degree the state of Indiana can bestow on their members, the State FFA degree.
Emsweller, Kaitlyn Sarringhaus, Onika Struewing, and Brooks Werner were among the 369 members who earned this degree.
Sarringhaus competed in the Employability Skills Leadership contest, where she walked away with a 4th place finish.
Belter and Struewing performed a Horticulture Demonstration on plant propagation and garnered the 2nd place honors.
In addition, Streuwing and Sarringhaus were elected to serve on the District XII Officer team for the upcoming year.
Streuwing will serve as Vice President, while Sarringhuaus will serve as Sentinel.