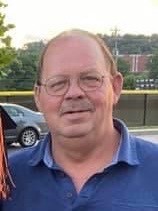 Richard Hollin, 64, of Moores Hill, Indiana, passed away Friday, June 17, 2022, in Edgewood, Kentucky.
He was born April 27, 1958, in Dayton, KY, son of the late Ernest Hollin and Betty (Baker) Hollin.
Rich worked at Setco for 17 years, then started his own business, Spindle-Tech in Aurora. He continued in that field of work, ending at Fives Machining Systems. Rich was a member at the Bridge of Hope Worship Center in Milan. He was an ordained minister and his faith was very important to him. Rich left a legacy of his faith.
Rich enjoyed hunting and fishing. He like to ride 4 wheelers and to be outdoors. He enjoyed traveling, but time with his family, especially his grandkids, was his greatest joy.
Richard is survived by his loving spouse, Kathy (Burgess) Hollin, children, Stacey Kippler of Lawrenceburg, IN, Tim (Angela) Ochs of Moores Hill, IN; brother, Tim (Mary) Hollin of Dillsboro, IN; grandchildren, Abby, Alexis, Trace, Piper, Landon, Mya and Carson; many nieces and nephews; and several brother and sister in laws.
He was preceded in death by his parents, Ernest and Betty; siblings, Bonnie Hollin, Ernest Hollin, Jr., Betty Rose; daughter, Amber; and granddaughter, Olivia.
A Celebration of Life will be held on July 9th between 11:00-1:00 with a short service at 1:00 at the Bridge of Hope Worship Center, 4050 E. County Rd.50 S., Milan, Indiana 47031.
Contributions may be made to the Bridge of Hope or the Hogan Hill Baptist Church. You may call the funeral home office at (812) 926-1450 and we will notify the family of your donation with a card.
Visit: www.rullmans.com