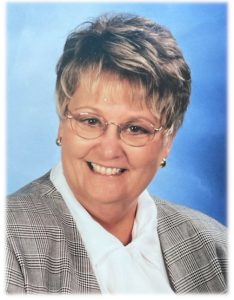 Letitia Ellen Justice (Tucker) was born on Saturday, November 25, 1944 in Milan, Indiana to Leo Edgar Justice and Sarah Edna Stacy and passed away on Sunday, June 12, 2022. She was a resident of Utah at the time of her passing.
While she loved her first name "Letitia," she grew frustrated at its mispronunciation and was known as "Ellen" throughout her life. Ellen was the youngest of eight children and grew up in humble means on her family farm in Indiana. She was an excellent student and scholar. Ellen graduated from Milan High School in 1962, then proceeded on to Indiana University where she received both her Bachelor of Arts Degree and Master's Degree in English. She taught High School, trade school and vocational school in the Indiana Education System. She possessed a keen mind, was meticulous with her grammar and especially gifted at helping those with learning disabilities or challenges, even spending time teaching in the prison system.
Ellen married her high school sweetheart, Frederick Lewis Tucker (deceased, 2006), on June 26, 1964. After completing her studies, she and Fred resided at Fred's family home in Pierceville Township, near Milan. She resided there until shortly after Fred's passing in 2006. After a brief residence in Guatemala teaching in her brother Lynn's private school, she moved to Spanish Fork, Utah in 2007 to be near her son Matthew, his wife Amy, and her grandchildren. During this time, she took employment with Matthew's Financial Services practice as the Branch Manager. She was a detailed person and was highly effective in her role there for seven years before finally retiring.
Throughout her life, Ellen had numerous challenges with her overall health, but sheremained ever-positive and ambitious. She was an extremely detailed and particularperson who could seemingly juggle endless demands and limited resources. She taughtpiano for many years, created beautiful flower and vegetable gardens, and led manyactivities for her son Matthew and his friends. She volunteered for anything that wouldcontribute to his goals and experiences, from scouting to school groups, providinglegendary "fruit parties" for his grade school classes at year's end, driving to Cincinnati foramusement parks, movies, shows, and events. Ellen and Fred were of humble means, but she was humble and determined, and she would do whatever work was needed to create meaningful experiences. She was a woman of great faith, unwavering integrity, constant prayer and religious study. She was greatly blessed by her original Baptist community and faith. Ellen had a tremendous work ethic and was an amazing problem solver; quick to come to the aid of any in need. She
loved people despite their flaws and mistakes, quick to forgive, slow to anger.
Ellen was deeply devoted to her husband Fred and served him in every way possible. In her final days, she tearfully expressed how much she missed him and wanted to see him after 16 years of widowhood. Ellen was the mother of two children, Matthew Glenn Tucker (1970) and Mark Stacy Tucker (1973), and she was a "bonus" mother to any in need of her love and compassion. A defining event in her life was the loss of her son Mark in 1974 at the age of 18 months. This caused her deep reflection and ultimately prompted her to further define her faith. In 1975, she was baptized a member of The Church of Jesus Christ of Latter-day Saints and was devout in her commitment.
She was a fierce champion of her son Matthew and devoted her life to providing him with every opportunity to develop himself as a man of character and faith. She was loved deeply by her parents and siblings and extended family, sharing especially close bonds with her brother Lynn Justice and her niece Linda (Justice) Weaver. Ellen was a woman of character with a broad network of friends and family with whom she shared deeply meaningful life experiences.
She passed peacefully as the unexpected result of a recent fall. She was faithful to the end, always helpful, always positive, always concerned with the needs of others. She leaves a legacy of love and faith to all who knew her. Ellen is survived by her son Matthew, and her granddaughters Rachael Shapcott (Oliver) and Brinley Tucker, and her great-grandson Kolby Shapcott.
Funeral services will be held at 10:00 a.m., Saturday, June 25, 2022 at The Church of Jesus Christ of Latter-day Saints at Batesville. Friends may call from 9:15-10:00 a.m. prior to the service. Interment will be in the Craven Cemetery.         Laws-Carr-Moore Funeral Home has been entrusted with arrangements, P.O. Box 243, Milan, IN 47031, (812)654-2141. Condolences may be expressed to the family at www.lawscarrmoore.com.