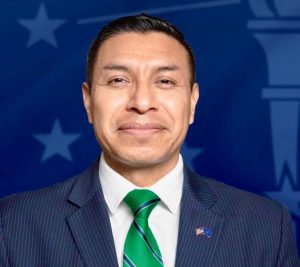 INDIANAPOLIS, IN  — Diego Morales beat incumbent Indiana Secretary of State Holli Sullivan to win the state Republican Party's nomination to run in the November election at the state GOP convention over the weekend.
Morales defeated Sullivan and another candidate when he secured a majority of ballots during the second round of voting.
Sullivan is a former state lawmaker from Evansville who was tapped by Gov. Eric Holcomb to serve as Secretary of State in March 2021 after Connie Lawson stepped down.
Morales, who worked in the Governor's Office when Mike Pence led Indiana, will face Democrat Destiny Scott Wells and Libertarian candidate Jeff Maurer in the fall.
Also over the weekend in Indianapolis, Republicans nominated Tera Klutz for Auditor of State and Daniel Elliott for Treasurer.
Democrats nominated ZeNai Brooks to run for Auditor and Jessica McClellan for Treasurer at their state convention.