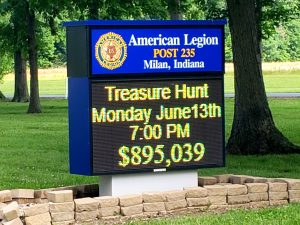 MILAN, IN — A drawing that is used to generate funds to support veterans, children, and the community has a huge jackpot for next week.
Milan American Legion Post 235 has used the Treasure Hunt drawing for several years, in which people buy tickets for $1, put their name, phone number, and one of the remaining game board numbers on each ticket, and drop them in a drum.
It's open to anyone 21 and older – and you don't have to be a Legion member to play.
The jackpot has gone unclaimed to the point that it has been in the hundreds of thousands of dollars in recent weeks.
The Legion parking lot has been jammed packed for the Monday night drawing to the point that shuttle buses have been used to transport Treasure Hunt participants from the Milan Community Schools campus.
Two numbers are left going into next week's drawing. You can find out more on the Milan American Legion Post 235 Facebook page.