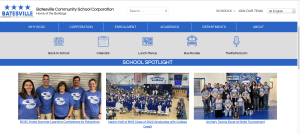 BATESVILLE, IN — The Batesville Community School Corporation (BCSC) has launched a new website designed to streamline access for parents and community members.
The updated site includes simplified menus and reorganized information for ease of navigation, as well as new features, such as classroom spotlights and video clips from school events.
Access to individual school building pages is available at the top of the corporation homepage.
Each school's homepage includes frequently requested information, such as lunch menus, the school calendar, and back-to-school details, all conveniently located by clicking on the appropriate icon.
To access the new website, visit https://batesvilleinschools.com/.
Questions about the website may be directed to the BCSC administration building by calling (812) 934-2194.
(Batesville Community School Corporation press release)