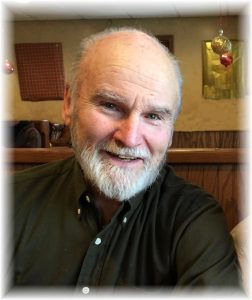 George Thomas Weber, 77, of Milan, passed away June 10, 2022. He was born in Scioto County, Ohio to George and Mildred Weber.
George was a faithful man who enjoyed studying the Bible. He loved the Lord and loved his church, Milan First Baptist. He served as a Sunday school teacher, a church trustee, and member of the choir.
George loved music and was always humming or singing as he worked. He was creative and sometimes even made up his own songs. This creativity also emerged in his work. When he was young, he and his brother, Kenny, learned the trade of carpentry from their father. George followed this passion to become a union carpenter and licensed real estate agent. Even into retirement, there was nothing that George could not fix or create. He valued hard work and poured his heart into everything he did.
George had a big heart for his family. When he met his wife, Lena, it was love at first sight. He immediately told his brother, "Just wait, I'm going to marry that girl." On April fool's Day of 1962, he did just that. Although George teased her about their wedding date every year, it was no joke. Lena and George had 60 years of loving marriage. From this marriage came three children and delightful grandchildren. He loved his family more than anything.
In his free time, George was an avid Milan Indians Athletics supporter. He watched just about every sport and enjoyed supporting the community. He also enjoyed shopping at antique stores almost as much as he liked shopping at harbor freight. He had a unique and great sense of humor and never passed up the opportunity to crack a joke.
George will be deeply missed by his wife, Lena; children, Travis (Katie) and Melissa (Wade) Weber; and grandchildren, Elizabeth, Alec, DeLanie, and Sydni Weber.
He was preceded by death by his son, Derrick; his parents; brother, Kenny Weber; and sister, Joyce Ann Weber (Tackett).
Visitation will be held Friday, June 17, 2022 from 5:00 PM – 7:00 PM with funeral services officiated by Pastor Harris Long following on Saturday, June 18, 2022 at 11:00 AM all at Meyers Funeral Home in Batesville, Indiana. Burial will take place immediately after at St. Paul Methodist Cemetery in Sunman, Indiana.
Memorials may be given to Margaret Mary Health Cancer Center by bringing to services or mailing to Meyers Funeral Home, P.O. Box 202, Batesville, IN 47006.
Please feel free to leave a memory or a message of comfort for George's family in the online guestbook at www.meyersfuneralhomes.com.