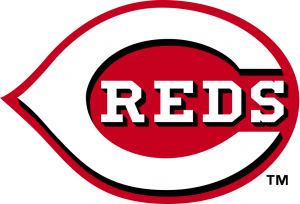 After the Reds took the first two games over Arizona, Cincinnati lost the final two to split the series and finish the homestand at 3-5.
For a third straight night Wednesday, a Reds/Diamondbacks game was impacted by weather.  This time, the near 1 hour, 40 minute delay came prior to first pitch.
Once the game got going, the Reds offense did not as they were shut out by Zona 7-0.
It looked like the Reds were going to score in the first inning for the seventh consecutive game, but the D-backs Alek Thomas reached up and over the left center field fence to rob Joey Votto of a two-run homer.
Thomas had Votto's number defensively in this one as the centerfielder also stole at least a single away from the Reds first baseman with a diving catch in the fourth.
Of Cincy's five hits in the game, Votto's double was the only knock for extra bases.
On Thursday afternoon, Reds pitcher Tony Santillan blew a 3-1 lead in the ninth giving up four runs.  Cincinnati lost 5-4.
The Redlegs scored three runs in the first inning on a Joey Votto two-run double and a Kyle Farmer sacrifice fly.
Starting pitcher Tyler Mahle had a very strong outing tossing six innings of four-hit, one-run baseball with 10 strikeouts against two walks.  After giving up a solo home run in the fifth, Mahle did a nice job getting out of a jam in the sixth where the D-backs left runners on second and third.
Alexis Diaz followed up with two shutout innings.  Then disaster struck when Santillan pitched in the ninth.
The young right-hander gave up a leadoff walk, a wild pitch and then an RBI base hit to make it 3-2.  That was followed by Santillan's throwing error to second on a bunted ball.  A sac bunt put the tying run at third and the go-ahead run at second.  Josh Rojas then delivered a two-RBI hit up the middle which put the D-backs up 4-3.
Zona picked up a big insurance run with a ground out RBI to make it a 5-3 game.  The Diamondbacks needed the extra run because the Reds Matt Reynolds hit a two-out, solo home run in the home ninth cutting the deficit to 5-4 which, again, was the final score.
This was Santillan's third blown save in seven chances this season.
And an injury note, Tyler Stephenson left the game in the fourth inning when he took a foul ball off his throwing hand.
Cincinnati will see the Diamondbacks again Monday in Arizona.  But first, the Reds head to St. Louis to begin a three-game series with the Cardinals tomorrow night (Friday).