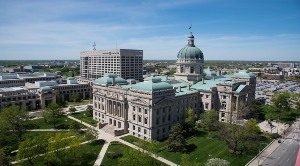 STATEHOUSE — Students from Decatur, Franklin, and Ripley counties, who are preparing to become teachers, are among this year's recipients of the state's Next Generation Hoosier Educators Scholarship, according to local lawmakers.
The scholarship program was established in 2016 through legislation supported by State Reps. Randy Frye (R-Greensburg), Randy Lyness (R-West Harrison), and Cindy Ziemke (R-Batesville), and awards $7,500 per year to 200 high-achieving students. Recipients must commit to teaching in Indiana for a minimum of five years after graduating college. Current high school seniors or college students are eligible to apply.
"Teachers can be some of the most important people in a child's life, and we need talented individuals to pursue this rewarding career," Frye said. "This scholarship encourages some of our brightest students to pursue teaching the next generation."
More than 600 students applied, and these local students are among this year's 200 scholarship recipients:
 Alyssa Wanstrath, Oldenburg Academy, selected Ball State University;
·Claire Wallace, North Decatur Jr-Sr High School, selected Indiana University-Purdue University Columbus;
 Emma Back, Oldenburg Academy, selected Franklin College;
 Emma Newhart, Jac-Cen-Del MS/HS, selected Franklin College;
 Jayme Pennington, East Central High School, selected Indiana University Bloomington;
 Jessika Thomas, South Ripley High School, selected Purdue University West Lafayette; and
· Olivia Raab, Batesville High School, selected Purdue University West Lafayette.
"Teachers play pivotal roles in both our schools and communities," Lyness said. "They often have a lasting impact on young learners, and these scholarships help put some of the best future educators in our Hoosier classrooms. Congratulations to these students, and I wish them the best on their journeys to becoming educators."
Those qualifying for the renewable scholarship totaling up to $30,000 must graduate in the highest 20 percent of their high school class, earn a score in the top 20th percentile on the SAT or ACT or have a cumulative grade point average of at least a 3.5 on a 4.0 scale.
"Investing in our teachers is so important to ensuring the best education for Hoosier students," Ziemke said. "These scholarships are a great way to ease the financial burdens of college and help students concentrate on earning their degree."
To learn more and apply for the next round of scholarships opening in the fall, visit LearnMoreIndiana.org/nextteacher.
(Information provided)