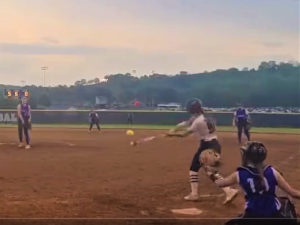 The following are high school softball recaps from Thursday, May 19.  All games are varsity unless noted otherwise.  There may be updates, so please check back.
Franklin County shut out Greensburg 6-0.
For the second time this week, the Wildcats Brooke Stang broke a program record.  On Monday she bested the single season run record with 39.  On Thursday, Stang set a new mark for most hits in a single season with 49.
Teammate Josie Rolfes collected three this.  Kensee Ferman and Maci Lake both had two.  Ferman and Bischoff batted in two runs.  Ferman and Anne Becker both belted a home run.  KK Ferman threw a four hitter and struck out nine.
***
Southwestern Hanover came from behind in the bottom of the seventh to defeat Jac-Cen-Del 9-8.
The game winning run was scored by Hannah Sampson on a sac fly by Trinity McClain. Morgan Mahoney and Ashley Fulton both had three hits for the Rebels.  Emily Hatton and Chloey Leach and Sampson both had two.  Leach led the team in RBI with two.
The Eagles got two hits each from Bailey Groth, Maria Meyer and Oliva Strunk.  Groth, Emalee Veerkmap and Abbie Schmidt all had one RBI.
***
Connersville completed its undefeated run in the EIAC.  The Spartans beat Rushville 5-1 for their 14th conference win against no losses.
Kindred Conley was the CHS starter and got the win.  Shelby Wolski pitched two innings for the save.  Bre Brock and Sara Ruble both had a pair of hits for Connersville.  McKenna Lucas smacked a three-run homer.
Rochelle Meyers and Stacey Roberts each collected two hits for the Lions.
We thank everyone who contributed to the recaps.