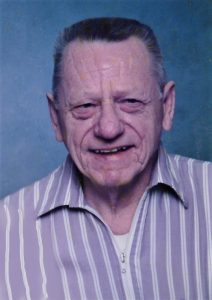 Daniel L. "Dan" Carter, 88, of Aurora, Indiana, passed away Thursday, May 19, 2022, in Brookville, Indiana.
He was born September 10, 1933, in Aurora, IN, son of the late Nick Carter and Marie (Horton) Batchelor.
Dan served his country as a member of the United States Air Force.
He worked as a Carpenter for Seagrams, retiring after many years of service.
He was a member of the American Legion, Aurora Eagles, VFW and Moose. Dan was a fireman at the Aurora Fire Department. He followed in his father's footsteps and was very active, even helping out with fund raisers.
Dan collected coins and loved old westerns. He enjoyed reading the Louis L'Amour books. He loved animals, but none more than his trusty dog, Mule.
Dan is survived by his daughters, Diana (Brian) Stott of Moores Hill, IN, Connie (Ron) Lawless of Brookville, IN; grandchildren, Laura Lawless, Sheena (Justin) Volk, Cody (Larissa "Reese") Stott; 13 great-grandchildren, and 3 great, great-grandchildren.
He was preceded in death by his parents, Nick Carter and Marie (Dutch) Ford; wife, Patricia A. Carter; grandson, Blaise Lawless.
Friends will be received Friday, May 27, 2022, 12:00 pm – 2:00 pm at the Vineyard Community Church, 304 Fourth Street, Aurora, Indiana.
Services will be held at the church at 2:00 pm with Pastor Dave Hall officiating.
Interment will follow in the River View Cemetery, Aurora, Indiana. Military graveside services will be conducted by the Southeastern Indiana Honor Guard.
Contributions may be made to the Loving Hearts Hospice or the Aurora Fire Department. If unable to attend services, please call the funeral home office at (812) 926-1450 and we will notify the family of your donation with a card.
Visit: www.rullmans.com