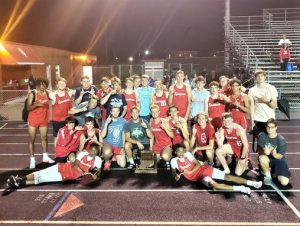 While boys track sectionals at East Central, Madison and Columbus North were all suspended due to weather (and will resume Friday), Thursday's event at Connersville went on as scheduled.  The host Spartan boys defended their home track with a 120-105 championship victory over Hagerstown.  Rushville placed fourth with 78 points behind third place Richmond with 89.
Individual champions for CHS included: Owen Baker, Parker Sweet, Brayden Jones and Carter DeBoard.  Kyle Stanley won twice for Rushville.
Please click on this link for complete results of the Connersville Boys Track Sectional.
Athletes finishing in the top three automatically qualify for regional.  Athletes outside the top three could also qualify should their result be one of the 16 best for that regional (Greenfield on Thursday, May 26).
Connersville and Rushville automatic qualifiers:
400 dash- 3 Tague, John- Rushville 53.69
800 run- 1 Baker, Owen- Connersville 2:03.76
1600 run- 1 Stanley, Kyle- Rushville 4:33.50
3200 run- 1 Stanley, Kyle- Rushville 9:54.32
110 hurdles- 1 Sweet, Parker- Connersville 15.30
and 2 Hornsby, Blaine- Connersville 16.25
300 hurdles- 2 Sweet, Parker- Connersville 42.71
400 relay- 2 Connersville 44.51
1) Sweet, Parker, 2) Hornsby, Blaine,
3) Buchanan, Micah and 4) DeBoard, Carter
1600 relay- 2 Connersville 3:41.01
1) Williams, James, 2) Peterson, Jadan,
3) Baker, Owen and 4) Isaac, Andrew
3200 relay- 3 Connersville 8:32.34
1) Baker, Owen, 2) Wenta, Austin,
3) Steele, Mitchell and 4) Isaac, Andrew
High jump- 2 Dyer, Trenton- Rushville 6-00
Pole vault- 1 Jones, Brayden- Connersville 11-00
2 Hampton, Jacob- Rushville 10-06
2 Miller, Brody- Rushville 10-06
Long jump- 1 DeBoard, Carter- Connersville 20-00.25
2 Tague, John- Rushville 19-07.25
Discus- 3 McCarrell, Dustin- Connersville 135-10.00
***
Unedited reports from coaches…
Connersville's Jeff Cooley- The boys track and field team won the I.H.S.A.A. sectional last night. The boys had an excellent night and several outstanding performances. Carter DeBoard and Micah Buchanan were 4th and 5th in the 100. Micah Buchanan was 4th in the 200 and Carter Deboard was 7th.Andrew Isaac was 4th and Jadan Peterson was 7th in the 400. Owen Baker won the 800. Parker Sweet won the 110 hurdles and was 2nd in the 300 hurdles. The 4×100 team (Sweet DeBoard Hornsbey Buchanan) were 2nd.The 4×400 team ( Baker Williams Isaac Peterson) were 2nd.The 4×800 team (Baker Isaac Wenta Steele) were 3rd. Blaine Hornsbey was 7th in the high jump. Brayden Jone won the pole vault and Lincoln Pflum was 4th. Carter DeBoard won the long jump.Dustin McCarrell was 3rd in the discus and Austin Lancaster was 8th. The next meet for those who qualified is Thursday at the regional in Greenfield.
We thank everyone who contributed to the recaps.