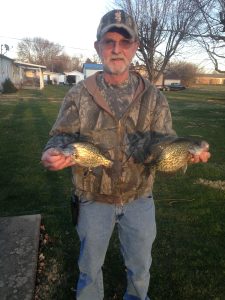 Steve E. Schmeltz, 67, born September 15, 1954, in Bearbranch, Indiana as the son of Vivian (Rowe) and Raymond Schmeltz.
Steve married the love of his life, Rhonda (Bockover) Schmeltz on July 1, 1989. Steve worked at Delta for 36 years and at One Logistics Solution for 7 years. Steve loved the outdoors, fishing, boating, and hunting. His greatest love of all was being with his family.
Steve is survived by his wife, Rhonda; daughter, Rachel (Joe) Buck; 3 grandchildren: Asa, Addie, Joseph (that he absolutely adored); sisters: Sharol Cox, Priscilla (Rodger) Eadler, Carol (Danny) Iceberg; brothers: Richard (Jenny) Schmeltz, Bill (Karen) Schmeltz, Stewart Schmeltz (Brenda Knecht), Mark Schmeltz; and many nieces, nephews, great nieces, and great nephews.
He was preceded in death by his parents; sister, Janet Schmeltz; and brother, Raymond Schmeltz.
A memorial gathering will be held from 4:00 pm to 6:00 pm on Friday, May 20, 2022, at Porter-Oliger-Pearson Funeral Home in Greensburg, Indiana. A memorial service will be held immediately after the gathering starting at 6:00 pm, also at the funeral home.
In lieu of flowers, memorial contributions can be made to The Decatur County Conservation Club. To leave online condolences, please visit www.popfuneralhome.com.