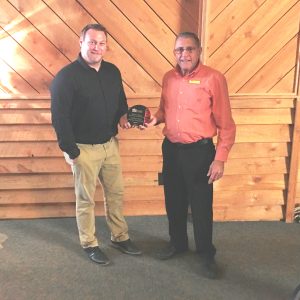 OSGOOD, IN — Indiana Farm Bureau Insurance was honored as the Ripley County Chamber of Commerce Business of the Year during the Chamber's 24th annual Recognition Luncheon Wednesday at the Hog Rock Event Center in Osgood.
"We were quite surprised when we received the notification," said Farm Bureau agent Owen Menchhofer. "We've been a part of Ripley County for many, many years and a part of the Chamber but this is quite a surprise."
Farm Bureau has increased its footprint in Ripley County over the years.
"We have Brian (Voss) and Doug (Schwering) in Batesville, and we have myself, and Fred (Neal) and Justin (Shuey) in Osgood…we cover all parts of the county," Menchhofer added. "We also go outside of the county. We can write policies for anyone in the State of Indiana."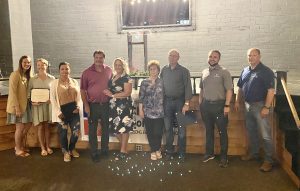 Menchhofer says their subsidiary E Street Insurance allows them to write business in the State of Ohio.
In accepting the award, Menchhofer is going out on top: he's retiring on July 1 after 27 ½ years with Indiana Farm Bureau Insurance.
"I enjoy what I do, enjoy meeting people, enjoy getting to work with farmers because I grew up as a farmer – a hog and grain farmer – and things changed," he said. "But it's time to be able to do things I want to do."
Executive Director Lora Parks and the Chamber directors also recognized the 19 businesses that joined the Ripley County Chamber in the past year.
Representatives of those businesses were presented with certificates.