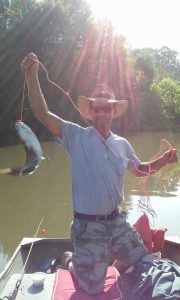 Ronald "Ron" Allen, 50 years old of Batesville, passed away Thursday, May 12, 2022. An adoring son, loving husband, doting father, and amazing brother, he was loved by all. Ron was a carpenter by trade and enjoyed projects that involved working with wood. He also happened to be quite a culinary expert. Every year Ron planted a vegetable garden full of green beans, cabbage, tomatoes, and beets, and spent time canning at the end of the summer. He was also an amazing baker, known for baking the best fruit pies ever. His family has tried to duplicate Ron's pies but could never master his skills. In addition to his domestic abilities, Ron loved adventures and riding his motorcycle. Every year around his birthday, he would take two weeks and ride out West, exploring different states and experiencing all kinds of weather along the way. Great memories were made when Ron and his daughter, Brandy, went riding together. They also shared the love of deer hunting and enjoyed these times together. A man many called "Ronny MacGyver", there wasn't a project or goal Ron wouldn't take on and accomplish. One of those dreams was living in Tennessee where he loved the mountains. Ron & Brandy would always vacation there for Christmas and her birthday. And, eventually, Ron & his wife, Carol made the move and lived there for three years before moving back home. He met many great people in Tennessee who he was proud to still call his friends.
Ron will be deeply missed by his wife Carol Allen of Batesville, daughter Brandy (Cassandra) Allen of Bright, mom Donna Wells (Kevin) Engle of Sunman, dad Donald Allen of Lawrenceburg, and brother Don (Bridget) Allen of St. Leon; stepsons Joseph & Steven Lunsford, many grandchildren, cousins, aunts, uncles and friends. Ron is preceded in death by grandparents Ellanora & Louis Wells and Anna & John Allen, uncles John Wells, Tom Wells, and Dale Allen, and cousin Andrea Wells.
Visitation for Ron will be on Tuesday, May 17 from 12:30pm – 2:00pm with a funeral service at 2:00pm at Andres-Wuestefeld Funeral Home at 25615 State Rt. 1, Guilford, IN 47022. Burial will immediately follow at Busse Cemetery, 22533 Schwire Rd., Sunman, IN 47041. Memorials can be made to Family Wishes and will be accepted at the visitation or can be mailed to the funeral home. Family and friends are encouraged to leave condolences at www.andres-wuestefeldfh.com.