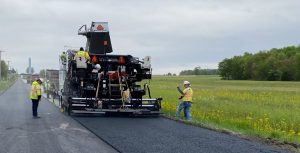 NAPOLEON, IN — The road closure point for the pavement and bridge replacement project on US 421 near Michigan Road in Napoleon has been moved north of the bridge near the Lutheran Cemetery.
According to a Napoleon Volunteer Fire Department social post, drivers can no longer access Michigan Road from Napoleon.
The fire department is urging motorists to slow down and use caution driving on alternate routes.
The project started in early April, with work to continue this spring and Summer moving south on US 421 from Napoleon to Osgood.
Paving is expected to be finished by early July in the following three sections:
US 421 between County Road 850 North and County Road 750 North.
US 421 between County Road 750 North and County Road 600 North
US 421 between County Road 600 North and County Road 450 North.
Other work includes bridge replacement over Vernon Fork Muscatatuck River in Decatur County. That bridge is expected to stay closed until July.
Construction on US 421 over Laughery Creek in Napoleon is scheduled to begin in July. That portion of US 421 will remain shut down through late October.
The official detour is State Road 229 to State Road 48 to State Road 129 to State Road 350.