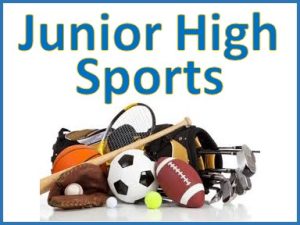 The following are junior high sports recaps from Thursday, May 12.  There may be updates, so please check back.
At the Mid Hoosier Conference Junior High Track and Field meet at Southwestern Shelby, the host Spartans won the boys title while Morristown claimed the girls.  North Decatur was second in the boys and third in the girls while South Decatur was runner up in the girls and fourth in the boys.
Girls Team Rankings
1) Morristown 111, 2) South Decatur 68,
3) North Decatur 47, 4) Waldron 46,
5) Hauser 37, 6) Southwestern (Shelby) 31
and 7) Edinburgh 28
Boys Team Rankings
1) Southwestern (Shelby) 103, 2) North Decatur 71,
3) Hauser 67, 4) South Decatur 52,
5) Morristown 41 and 6) Waldron 38
Local event champs included North Decatur's Ava Lecher, Ellie Metz and two by Eli Weisenbach.  South Decatur's 400 and 1600 girls relays also were victorious.
Please click on this link for complete results of the MHC Junior High Track and Field Championships.  (More information follows the recaps.)
***
Batesville Middle School suffered its first loss of the season to Franklin County 171-172.  BMS lost by just one stroke despite missing three of its top six players.
The Bulldog coaching staff was very proud of team's effort playing shorthanded.  Landon Raver, Isaac Weber, Ian Hixon and Zoey Ahern all shot 43.  It was a personal best for Ahern who also made her first eagle.
Other BMS scores: Brody Gibson and Noah Davis carded their personal bests with a 44 and 46. Kaiden Eckstein's long birdie putt helped him reach a personal best 50. Brycen Miller added a 57 and Adelyne Koehne shot a 65.
***
Unedited reports from coaches…
North Decatur's Destiny Brown- Such a great way to end the season! The boy's JH team competed and placed 2nd overall for the MHC! Some notable moments include: Eli Weisenbach placing 1st in Hurdles AND Long Jump! Branden McBride took 3rd in both 100M Dash, Long Jump, AND the 200M Dash! Simon Barber placed 3rd in the 400M Run with a new PR of 1:05.93, followed by Henry Kinker in 5th with a new PR of 1:10.26. Conner Goolsby set a new PR of 2:35 in his 800M Run securing 2nd place. The 4×1 placed 3rd with a new PR of 56.31, and the 4×4 placed 2nd with a new PR of 4:38s!
North Decatur's Breanna Morris- The junior high girls track team finished thier season with an outstanding night at the MHC meet. Some highlights are:
4×100 meter relay placed 3rd with a time of 1:02 as a new PR.
4×400 meter relay team placed 3rd with a time of 5:13.
Ava Lecher placed first in the 400 meter dash with a new PR of 1:09 and 6th in hurdles with a new PR of 20.2 seconds.
Olivia Reisman placed 7th in the 400 meter dash.
Mary Stier placed 8th in the 100 meter dash, 8th in the 200 meter dash, and 7th in the 1,600 meter run.
Sarah Moeller placed 4th in the 1,600 meter run, 3rd in hurdles, 4th in high jump with a height of 4'2″.
Norah Amberger placed 7th in the 800 meter run with a new PR of 3:12.
Ellie Metz placed 1st in discus throw with a length of 58'6″.
Sophie Rohls placed 5th in high jump with a height of 4'2″.
We thank everyone who contributed to the recaps.