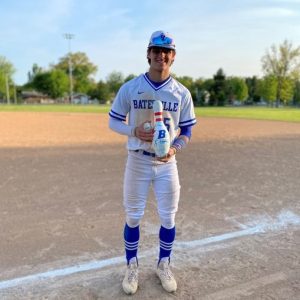 The following are high school baseball recaps from Thursday, May 12.  All games are varsity unless noted otherwise.  There may be updates, so please check back.
Batesville improved its EIAC leading record to 11-0 with an 11-1 victory over Rushville.
Jacob Meer pitched four innings for the win and drove in two runs at the plate.  William Meer also had two RBI.  Charlie Schebler doubled and homered with a ribbie.  Zach Wade, Max Baumer and Jack Grunkemeyer all had an RBI.
Rushville's Lincoln Comer batted in the Lions only run.
***
The Bulldog JV also beat the Lions 16-5.  Carter Bohman led the BHS reserves with three hits and three RBI.
***
North Decatur's varsity blanked Southwestern Shelby 12-0.  Jake Mirick tossed a three-hitter with six strikeouts.
Charger teammates Nolan Burkhart, Nate O'Dell and Tyler Field all had two hits.  Burkhart batted in three runs. O'Dell drove in one.  Reid Messer and Mirick each plated a pair of runs.  James Evans, Kemper Seitz and Ty Litmer were also credited with an RBI.
***
Switzerland County topped Shawe 5-3 in eight innings.
The Pacers got three hits from Kaleb Koons, two by Roman Hite and a pair of ribbies from Bryce Turner.
The Hilltoppers Jacob Hertz, Philip Kahn and Hunter Kennett each had two hits.
***
South Dearborn defeated Connersville 9-3.
The Knights Clay Gentry had a five-RBI game on two hits.  Adam Kunkle also had a couple of hits and an RBI.
For the Spartans, Gavin Pearson had three hits with a triple.  Brayden Lykins singled and doubled.  Both players batted in a run.
***
East Central defeated Greensburg 8-0.  EC's Daniel Brayton scattered six hits, struck out 10 and walked none in the victory.
Josh Ringer's three hits and two RBI led the Trojan offense.  Teammate Brayden Rouse also batted in two on two hits.  Andrew Roy and Carson Koelling picked up a couple of singles each as well.
We thank everyone who contributed to the recaps.