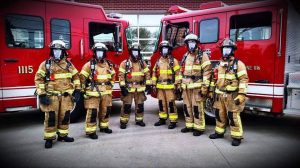 SUNMAN, IN — The Sunman Rural Fire Department is starting a Fire Cadet Program.
The aim of the program is to give youth an opportunity to see what it's like to serve in fire and emergency services.
Cadets will participate in various activities associated with community service, fire safety, emergency first aid, and other services provided by the Sunman Rural Fire Department.
All cadets will follow the program's policies, procedures, and the Volunteer Firemen's Insurance Services (VFIS) recommendations for cadet programs.
The cadet program is open to anyone between the ages of 15 and 18 who have successfully completed the eighth grade and/or are still in high school. Participants must have approval from a parent or guardian.
All prospective candidates must complete a standard application for admission into the program.
Contact Lieutenant Randy Miller at [email protected] for more information.