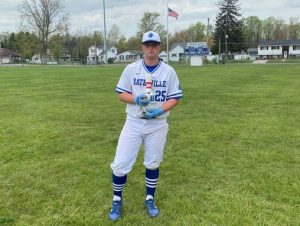 The following are high school baseball recaps from Saturday, April 30.  All games are varsity unless noted otherwise.  There may be updates so please check back.
Batesville topped Franklin County 14-4.  BHS scored nine times in the second.
For the Dogs, Max Baumer homered and singled twice with three RBI. Travis Lecher also drove in three runs on a single and double.  Zach Wade tripled and singled twice with two RBI. William Meer picked up a couple of ribbies and Jacob Meer had two hits, one of which was a two bagger.
For the Cats, Brant Ertle delivered two singles, a double and one RBI.  Adam Daugherty doubled and drove in a run.  Eli Butt posted a double and a base knock while Chase Burton accounted for the other RBI.
***
Jac-Cen-Del split with Hauser in a double header.  The Eagles took game one 7-5 thanks to a three-run seventh inning.
Justin Swinney had a three-hit game for Jac.  Brady Borgman doubled and drove in two while Austin Bowling and Clark Dwenger each batted in a run.
Hauser's Sam Miller had the Jets only run batted in.
The boys from Hope beat the Osgood guys 3-2 in game two.  Both teams managed just three hits.
Jac's Landon Comer and Hauser's Koby Johnson had the only ribbies.
***
Shawe downed Christian Academy 12-2.  The Toppers Hunter Kennett singled and doubled with three RBI. Eric Liu batted in two on a single and two bagger. Christian Whitham had a pair of base hits and Tyler Hill batted in two.
***
In a junior varsity baseball game, Batesville lost 9-4 to Columbus North.
Carter Bohman led the BHS reserves with four hits.  Teammate Alex Baumer notched two RBI.
We thank everyone who contruted to the recaps.