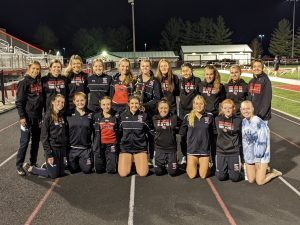 The following are high school track recaps from Friday, April 29.  There may be updates, so please check back.
At the East Central Invitational, the host Lady Trojans won the girls event over second place Batesville, but it was the Bulldogs who won the boys event over runner-up Elder.  Franklin County, Greensburg, Oldenburg and South Ripley were other local teams which competed.
Girls Team Rankings- 1) East Central 174, 2) Batesville 110.5, 3) Columbus East 74.5, 4) South Ripley 73, 5) Franklin County 59, 6) Seton 44, 6) Greensburg 44, 8) St Ursula Academy 25 and 9) Oldenburg Academy 18.
Boys Team Rankings- 1) Batesville 151, 2) Elder 143.50, 3) East Central 135, 4) Greensburg 72, 5) Franklin County 66, 6) South Ripley 30 and 7) Oldenburg Academy 21.5.
East Central's Hope Fox and Elder's Justin Re earned MVP honors.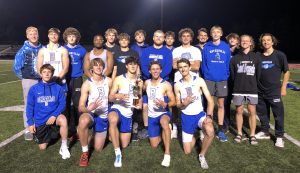 Local two-time individual winners included: Batesville's Benjamin Moster; Greensburg's Emarie Jackson; East Central's Hope Fox and EC's Leo Maxwell.  Maxwell broke his own invitational discus record with a throw of 176'3".
Single individual winners were: Batesville's Katie Olsen; East Central's Rachel Campbell, Ellie Hill, Emma Wilhelm and Jack Rinear; Franklin County's Chrsitian Stortz and Chad Cox; and South Ripley's Lanie Nicholson and Emily Flood.
The Lady Trojans swept all three relays and the Bulldog boys took two of three.
Please click on this link for complete results.  (More information follows the recaps.)
***
Connersville competed at the New Castle Invite.  Both Spartan teams placed second.
CHS winners included Parker Sweet, Brayden Jones Raykaya Dixon and two each by Lexi Barr and Kaytlyn Seely.  The Spartans also won the girls 1600 relay.
***
Reports from coaches…
Batesville's Lisa Gausman- It was a fun night at the East Central Varsity Invitational last night. The weather was great and we had some great performances against some great competition.
For the boys, it came down to the last event to see who was going to take home the victory trophy and the Batesville 4 x 400m relay team did not disappoint. Especially watching Eli Pierson, running the anchor leg of this relay, grabbing the baton about 25-30m behind. He gave his all and pulled out a huge personal best split of a 49.7 to just edge out East Central at the finish line by a half a second. This ensured the boys team championship giving us a total of 151 points to Elder's 143.5. East Central was 3rd with 135, Greensburg 4th-72, Franklin County 5th-66, South Ripley 6th-30 and Oldenburg Academy 7th with 21.5 points.
The girls also had a strong performance with a solid 2nd place finish to a very strong East Central team that took home the victory with 174 point to our 110 points. Columbus East just edged out South Ripley 74.5-73 for 3rd and 4th spot, Franklin County was 5th-59, Greensburg and Seton tied at 6th-44, Ursula was 7th with 25 and Oldenburg Academy finished 8th at 18 points.
The boys team started and ended the evening with victories. The 4 x 800m relay began the meet with a win and the 4 x 400m relay closed the night with the win. Benjamin Moster was on fire on the oval tonight as well taking home 4 championships. He started off the night anchoring the 4 x 800m relay team along with teammates Ean Loichinger, Jake Chapman and Daren Smith leading the way with a 8:34.98 finish. Benjamin then won the 1600m run at 4:38.9, came back and won the 800m run with a time of 2:02.93 and led the charge for the 4 x 400m relay team, along with teammates Daren Smith, Kasin Hughes and Eli Peirson to take the victory (3:32.16). On the girls side, we had one champion and that was senior Katie Olsen in the 400m dash (1:02.67). Congratulations to all!
(All results for Batesville and other participating teams can be found by clicking the complete results.)
There were MANY Bulldogs taking advantage of the weather and great competition and received personal bests in their events and they are by event:
Long Jump: Sarah Bedel, Deacon Hamilton, Kasin Hughes, Lizzy Nobbe (tied)
100/110m hurdles: Cora Deputy, Gage Pohlman
400m dash: Kaylie Raver
800m run: Megan Allgeier
300m hurdles: Gage Pohlman
3200m run: Emma Weiler, Jake Chapman
The girls 4 x 100m relay team: Madelyn Pohlman, Lily Meyer, Lizzy Nobbe, Elena Kuisel
The 4 x 800m relay split of Kaylie Raver, Kaylynn Bedel, Daren Smith
The 4 x 400m relay split of Katie Olsen, Megan Allgeier, Daren Smith, Eli Pierson
We thank everyone who contributed to the recaps.