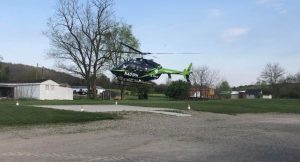 NEW TRENTON, IN — A medical helicopter was called to take the victim of a scooter accident on New Trenton Road to the hospital.
The wreck happened just after 6:00 Wednesday night.
New Trenton Road was closed for an hour and a half during the rescue effort, crash investigation, and cleanup.
The Franklin County Sheriff's Office is investigating the crash.
The New Trenton Volunteer Fire Department and Franklin County EMS were also called to the scene.