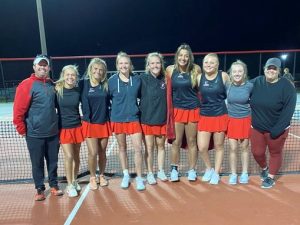 The following are high school girls tennis recaps from Tuesday, April 26.  There may be updates so please check back.
East Central won all five matches against South Dearborn.
Collecting the Trojan points were Heidi Kane, Payton Pies and Daphne Smets in singles along with Michelle Batta with Elizabeth Kirchgassner and Avery Daniels with Kelsey Scholl in doubles.
The Knights Sportsmanship Award went to Maria Townsend and Jessica Bloebaum took the Toughness Award.  Bloebaum lost in a close three set match and Townsend was a JV winner as was teammate Juliette Hurst.
***
Franklin County defeated Hagerstown 4-1.
On the single side for the Cats, Kacie Williams and Nicole Mears got a dub.  Their doubles teams of Grace Roth with Kaylin Knapp and Chloe Cowen with Regan Barker also won.  FC also had two victories in reserve doubles:  Katherine Apsley with Aalee Barker and Kelsie Brackney with Shelby Rosenberger.
Franklin County match scores:
#1 Singles- Kacie Williams 6-6 (7-3), 6-1
#2 Singles- Nicole Mears 6-3, 6-2
#3 Singles- Lola Mann 1-6, 5-7
#1 Doubles- Grace Roth/Kaylin Knapp 6-2, 6-0
#2 Doubles- Chloe Cowen/Regan Barker 6-4, 6-1
JV Doubles- Katherine Apsley/Halee Barker 6-0
JV Doubles- Kelsie Brackney/Shelby Rosenberger 6-1
***
Batesville fell 4-1 to Shelbyville.
Summer Ratcliffe got the lone Bulldog win at first singles (7-5, 1-6, 10-8).  Bulldog JV winners included Jada Day, Madison Wanstrath, Olivia Raab with Gabrielle Elston and Kate Bauer with Lucy Abplanalp.
Batesville's No. 1 singles player Summer Ratcliffe posted the team lone victory. She defeated Jaidyn Tackett 7-5, 1-6 and (10-8).
Laney Walsman and Isabelle Wonnell both battled but lost tough two-set matches in singles.   Cayman Werner with Molly Meer fell in two sets with the first going into extended play.  Isabelle Westerfeld with Annie Negovetich lost the doubles match in straight sets.
***
Milan lost 5-0 to Southwestern Hanover.
Elle Ford, Julia Worcester and Syrenia Hardy were singles victors for the Rebels.  Chloe Adcock with Audrey Bare and Peyton Howell with Larissa Garcia won in doubles.
The Indians got a couple of victories in reserve play- Jutzi in singles and the Knecht/Deaton duo in doubles.
Match results:
#1 Singles- Ford (SW) over Bushhorn (M) 6-0, 6-0
#2 Singles- Worcester (SW) over Honnert (M) 6-1, 6-0
#3 Singles- Hardy (SW) over Keller (M)
#1 Doubles- Adcock/Bare (SW) over Clark/Haessig (M) 6-1, 6-2
#2 Doubles- Howell/Garcia (SW) over Kroner/Phelps (M) 6-4, 6-4
JV Singles- Jutzi (M) over Earl (SW) 6-1
JV Doubles- Knecht/Deaton (M) over Larue/Keeton (SW) 6-3
***
Connersville got by Rushville 3-2.
Kerstin Ellis posted a win in singles (6-0, 6-1). The other two Spartan points came on the doubles courts: Sarah Coger with Grace Kelly (6-1, 6-3) and Tori Hanson with Harley Morris (6-3, 6-2). For the CHS reserves, Maddie Hauger, Olivia Struewing, Nicole Sachnov were singles winners.  Aubrey Hunt with Aubrey Eggers teammed for a doubles W.
action with Olivia Yager (6-2, 6-3) and Jin Calaf (6-0, 6-3).  Megan Alexander also won twice in JV competition.
We thank everyone who contributed to the recaps.